Moving Out Of The Family Home Prior To Divorce: Pros & Cons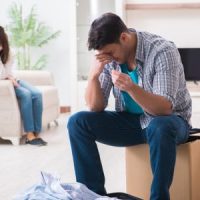 Distribution of assets in divorce is a top concern for individuals who are both contemplating and already going through divorce. For most couples, their primary residence is their most valuable asset. For those also concerned about child custody, parenting schedules, and visitation, how a living situation is arranged prior to the divorce and any associated agreements being finalized is of key importance.
One individual and/or parent possibly wanting to leave the marital home prior to the divorce being finalized is understandable, especially if relations are acrimonious at the time. This is especially understandable if domestic violence is a concern in the relationship.
However, aside from issues involving domestic violence, deciding to move out of the family home prior to the divorce being finalized could lead to complications in terms of division of property, child custody, child support, and more, as we discuss below.
Child Custody & Parenting Plans
For one, moving out of the home will presumably reduce the amount of time spent with a couple's children. In many of these cases, children will continue to spend most of their time in that primary residence that the parent left, and this could result in the court providing weight to having them continue to spend a majority of their time there, especially if the other parent has yet to secure reasonable accommodations appropriate for children.
Recordkeeping & Access to Assets
New York follows laws of equitable distribution when it comes to division of property, whereby marital assets are divided "equally."
Divorces rely heavily on records, such as mortgage and bank statements, credit card charge information, insurance policy information, retirement information, and more to accomplish these objectives.
When a partner leaves before the divorce is finalized, this can be seen as abandoning one's share of the mortgage, household, and/or child expenses. Also, if one partner moves out, they could effectively lose access to this crucial information – information that is key to ensuring that things are divided "equitably." This also holds true to any other valuable, shared assets, such as jewelry. How to obtain and retain such records is therefore critical to you success or failure during the divorce process.
Let an Attorney Help You Today
Protecting yourself and children is of course of the utmost importance, which is why consulting with a family law attorney as early as possible is ideal. Keep in mind that if moving out prior to the divorce is unavoidable, you and your attorney can ask the court to make a determination as to issues surrounding spousal support and other financial matters so that the record is clear that this is being done in cognizance of the law.
If you are contemplating or in the process of obtaining a divorce, your attorney should advise you to start keeping an inventory of possessions owned, as well as taking pictures of each item in the inventory. Our Rockland and Westchester County divorce attorneys at the Law Office of Robert S. Sunshine, P.C. are prepared to help you with any and all issues that might come your way. Contact us today to schedule a consultation.