Important Considerations In A "Gray" Divorce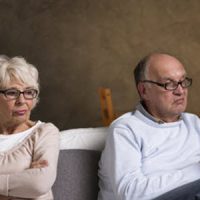 Getting divorced in your 50s, 60s, or beyond is sometimes referred to as a "gray divorce." Many couples now find themselves separating and divorcing after decades of marriage; in some cases, once their children have left home. In fact, according to the Pew Research Center, the divorce rate for U.S. adults age 50 and older has doubled since the 1990s.
There are particular financial issues you want to take under consideration with your divorce attorney if you are divorcing late in life, as asset management and spousal support are critical considerations. Below, we discuss some important factors in these considerations:
Critical Questions
Some of the critical questions we discuss with our clients who are divorcing include the following:
What can you not live without?
What is most important to you?
What can you give up?
What can you create for yourself in this new, post-divorce future?
Dividing Assets, Especially Retirement Accounts
Retirement assets are one of the most critical areas to address in a gray divorce, however, this area can also become messy, warranting careful preparation with your attorney. Often, those who have been heavily involved in financial planning and know their own retirement needs end up on a more amicable path when it comes to resolution in this area.
Qualified Domestic Relations Orders (QRDOs) entitle one spouse to receive a portion of their ex's retirement plan, and this includes IRA accounts. If the accounts were opened during the marriage,  like other marital assets, they are divided equitably; if they were opened before the marriage, only funds contributed to that IRA during the marriage are treated as marital assets and divided equitably.
Healthcare & Insurance
Health insurance is another issue that can become more complicated if you are divorcing later in life. You are entitled to remain under your ex's health insurance plan for up to 36 months after a divorce, however, staying covered under COBRA can still be expensive, and then you still have to have a plan in place for when those 36 months are over; at least until Medicare becomes available at age 65. As a result, health insurance expenses are another factor you and your attorney will need to account for in any divorce settlement.
Social Security Benefits
Any disability and/or social security benefits are another important asset, as, similar to other retirement benefits, a spouse who has little-to-no earnings is entitled to a portion of their ex's Social Security retirement benefits. In order to qualify, not only does your ex need to be entitled to disability or Social Security retirement, but you also have to:
Have been married for at least 10 years;
Be at least 62 years old; and
Be unmarried (if you remarry, you no longer have access to your ex's Social Security benefits).
However, it is important to note that full benefits only become available once the spouse reaches full retirement age. Therefore, for example, if your spouse receives $2,000 per month in Social Security benefits, you are entitled to as much as $1,000 of that payment each month, depending upon other circumstances involved, such as when full retirement age is reached, when you start receiving benefits, etc.
Stay-At-Home Parents
In gray divorces, there are also financial issues associated with circumstances whereby one spouse was a stay-at-home parent for a number of years and, as a result, it can be difficult-to-impossible for that individual to quickly obtain employment and a source of income. As a result, this will need to be addressed with assistance from your attorney (of course pending any pre- or postnuptial agreements that were in place and need to be taken into account as well).
For this reason, women are often more financially impacted by a gray divorce, especially taking into account wage inequality as a separate issue, in general. This is why it is so critical to work with the right attorney, who can help ensure that financial plans and compensation is in place to ensure that, as a result of the divorce, you are not facing a serious disadvantage and at risk of not being able to pay your bills.
Contact the Very Best in New York Divorce Legal Representation
Indeed, a good Rockland County family attorney and detail-oriented financial adviser are key when it comes to  gray divorces, as they can help you understand your asset circumstances and plan a budget.
New York family law attorney Robert S. Sunshine has gone through very specific training and experience to provide the best to his clients; contact the Law Office of Robert S. Sunshine, P.C. today to schedule a consultation and find out more.
Source:
morningstar.com/news/marketwatch/20230729319/4-things-to-consider-before-getting-divorced-in-your-50s-60s-or-beyond