What Is Mediation In Family Law?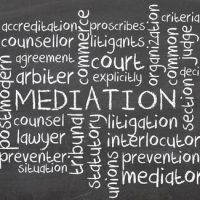 Mediation is an option that is used in family law, prior to or as part of pending court proceedings, to help two parties reach an agreement. In mediation, a trained mediator helps facilitate communication between two parties concerning a given issue. The purpose of the process is to help those parties come to a satisfactory resolution.
It is also important to distinguish the mediator's role from that of a judge or jury: While judges and juries make decisions in cases, mediators do not; instead, their 'charge' is to facilitate a discussion and lead an exchange of information that will help the parties themselves through the bargaining process. This involves helping the parties phrase and rephrase different issues that come up, as well as identifying creative solutions to any complex problems that present themselves, find common ground, and work towards realistic expectations. Mediators can also help to draft settlement agreements between the parties.
While mediation is typically voluntary, in some circumstances, a court will send parties into mediation to work out a specific issue that has come up in court. In the context of family law, parties will sometimes seek out mediation to not only cover issues related to an uncontested divorce, but also child custody, spousal support, child support, and division of marital assets. Mediation can be of use here not only to married couples, but unmarried couples who have child-related issues to decide on as well.
The mediation process tends to work best when both parties come to the table ready and prepared to reach a resolution. If one party is adamant about their own particular perspective, and unopened to compromise, then a legal process can be difficult to avoid through mediation.
Some of the express pros of going through mediation include:
Avoiding court costs and delays
Less stress and acrimony than legal proceedings, which can be especially helpful in family law, especially if children are involved
The parties involved can craft their own resolution
When Does Mediation Not Work?
The cons of mediation can include the following:
The outcome isn't binding on either party
Mediators do not have the authority to probe one party concerning, for example, hiding assets
Typically, parties have to negotiate on their own behalf, without the assistance of their attorneys
If unsuccessful, parties still have to pay the mediator for their time
If you are unprepared and/or unaware of your rights, you could end up with an outcome that is less favorable to you than had you gone to court
Mediation is not advised in cases which involve domestic violence or coercive, controlling relationships as the abused often times uses that forum to perpetuate the abuse and control
Contact Us Today for Help
Our Rockland County family lawyers at the Law Office of Robert S. Sunshine, P.C. are here and ready to help. If you have any questions about family law mediation, contact us today to schedule a consultation and find out more.